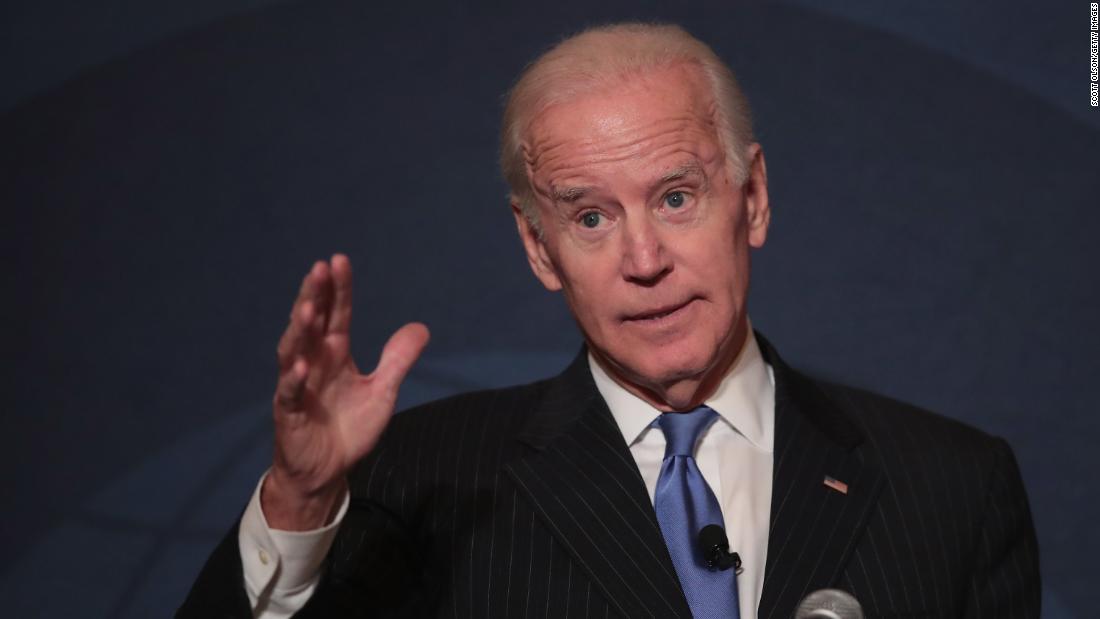 Washington (CNN)Our weekly roundup of the news, notes and chatter about the prospects for the next Democratic presidential race:
The results of
the poll, conducted by SSRS
, show that a top tier of candidates who all face questions about whether they'll run due to age and other factors seems to be emerging: Former Vice President
Joe Biden
is the most broadly popular pick, with 84% of Democrats saying they are either very or somewhat like to support his potential nomination. Vermont Sen.
Bernie Sanders
comes next at 75%, followed by Massachusetts Sen.
Elizabeth Warren
at 68%.
Then there are three younger Democratic senators who are still building national name ID: California Sen. Kamala Harris: 53%; New Jersey Sen. Cory Booker: 50%; New York Sen. Kirsten Gillibrand: 48%.
It's no surprise that those three had significant numbers say they're "not sure," given their lower profiles. CNN polling director Jennifer Agiesta breaks it down a little more in her wrap: "Sanders still has the strongest grip on young voters in the Democratic party: 60% of potential Democratic primary voters under 35 years say they are very likely to back Sanders, vs. 52% for Biden, 29% for Warren, 18% for Harris, 16% for Booker and 12% for Gillibrand.
News and notes:
HOLD' STEADY: Former Attorney General
Eric Holder
kept the 2020 door propped open during a chat with Viceland's "Desus & Mero," telling the hosts: "What I've said is,
I'm going to decide by the beginning of next year
and see if there's going to be another chapter in my public service career. We'll see." When they asked about his biggest Obama administration regret, Holder pointed to gun reform in the aftermath of Sandy Hook. "
Joe Biden
and I really worked hard on that," he said, "and we didn't pull it off."
LANDRIEU TALKS 2020: New Orleans Mayor
Mitch Landrieu
keeps deflecting, but he isn't giving it a flat-out no. The mayor spoke at a Bloomberg breakfast in Washington on Thursday and talked about potential for Democrats in 2020. "I don't think you guys ought to be worried about a dearth of candidates" in the next presidential race, he said at the breakfast. "I don't intend to be one of them." But, he added, "
things could change
."
The next day, he gave a similar answer on CNN's New Day, and went on to say he hoped Joe Biden would run in 2020. He also touted Mike Bloomberg, Kamala Harris, Cory Booker, Eric Garcetti and Jeff Flake as potentially good candidates to oppose Trump.
HARRIS TO BE SPECIAL GUEST AT DNC EVENT: California Sen. Kamala Harris will appear at this year's DNC Women's Leadership Forum on May 17-18 in Washington. She'll keynote a dinner on the second night. Also attending the event is another prospective 2020 candidate: Jason Kander.
Other Harris-related notes: She'll
be on
Ellen DeGeneres
's NBC show at 3 p.m. Thursday. She's keynoting a Michigan Democratic Party dinner on April 14, as well.
SANDERS RETURNS TO MISSISSIPPI: Sen.
Bernie Sanders
returns to Mississippi this week, when he'll join Jackson Mayor
Chokwe Antar Lumumba
for a town hall event on Wednesday — marking the 50th anniversary of the assassination of Dr.
Martin Luther King Jr
. Sanders returns to the state he lost by 66 points in the 2016 primary. He'll
talk economic justice
with Lumumba, the young leftist mayor who was
endorsed by Sanders' political organization
, Our Revolution, last year.
KANDER AND THE EARLY PRIMARY STATES: Former Missouri Secretary of State
Jason Kander
will
give the keynote address
at the 2018 McIntyre-Shaheen 100 Club Dinner on April 14 in Nashua. Kander's appearance at this dinner will be his
second
at a major New Hampshire Democratic Party event.
On Wednesday, Kander announced his endorsement of two South Carolina Democrats running in 2018: Democrats James Smith, who is running for governor, and Joe Cunningham, who is running to unseat GOP Rep. Mark Sanford in the 1st District.
PROFILING MAYOR PETE:
Politico's Edward-Isaac Dovere spent some time in the Midwest
profiling South Bend, Indiana, Mayor
Pete Buttigieg
. High-profile backers of the 36-year-old mayor quoted in the story including
David Axelrod
and former DNC Chair
Howard Dean
, who endorsed Buttigieg in his 2017 DNC chair race.
On the buzz about his future prospects: "I think it's maybe a sign of the times. I think it's telling you that things are kind of wide open in a way that hasn't been true in a long time. I think it shows that there is an interest in the middle of the country," Buttigieg said. "I think it shows that there's at least curiosity, if not appetite, for what a newer generation of leaders is going to look like. And I think it reflects the fact that we're really living in a season for cities and for mayors."
BULLOCK'S FIRST TRIP TO IOWA: Montana Gov.
Steve Bullock
is
heading to Iowa this week
. He will attend a fundraiser for Iowa attorney general candidate
Tom Miller
in Des Moines on Thursday. The next day, Bullock will headline an event with the Polk County Democrats in Johnston. This will be his first trip to Iowa as governor.
From the right
KASICH AND CUBAN TOGETHER MONDAY: Ohio Gov.
John Kasich
will
appear alongside
Dallas Mavericks owner and entrepreneur
Mark Cuban
at Ohio State University on Monday. Both men are harsh critics of President
Donald Trump
and both have been named as prospective 2020 nominees to challenge Trump. The two will discuss "the impact of automation and innovation on the future of work" in a discussion with
Mike Allen
and
Jim VandeHei
, the co-founders of Axios.
A trend to watch:
DEM CAMPAIGNS UNIONIZE: A growing number of 2018 Democratic campaigns — and one notable progressive consultant shop — are seeing their staffs unionize. Last week, staffers at digital consulting firm Middle Seat, founded by former Sanders 2016 hands
Kenneth Pennington
and
Hector Sigala
,
made it public
. Additionally, the Campaign Workers Guild lists ten campaigns to organize, including those of congressional candidates
Randy
"Iron Stache"
Bryce
(Wisconsin),
Jess King
(Pennsylvania) and
Laura Moser
(Texas), and Illinois attorney general hopeful
Renato Mariotti
.
Why do it? Sigala, a campaign vet who was supportive of his staff's choice, said: "The hours are insane, the pay is low, there's no overtime pay or anything, and you're working multiple jobs and multiple roles per person. If you get sick or something, it's like you've gotta do it, because if you don't, someone else will. And it's not because you're forced into it; it's that you really believe in the candidate you're working for — and that's the reason this hasn't happened before. They say, 'I'm doing this because I'm so passionate about it.' But it's not either/or."
Expect this to be an issue — and a selling point — next year and in 2020 as the Democratic candidates jockey for support from progressive groups.
Before you go:
New Jersey Sen.
Cory Booker
is
heading to Tallahassee
on April 14 to headline a fundraiser to Sen.
Bill Nelson
, who may be challenged by Republican Gov.
Rick Scott
this fall. … Former Virginia Gov.
Terry McAuliffe
is
joining George Mason University
in Fairfax, Virginia, as a visiting professor. … Former Vice President
Joe Biden
made a stop on his book tour at Southern Connecticut State University and told the crowd that "
the jury's still out
" on if he will run in 2020.
Read more: https://www.cnn.com/2018/04/01/politics/2020-vision-biden-popularity-eric-holder-decision/index.html