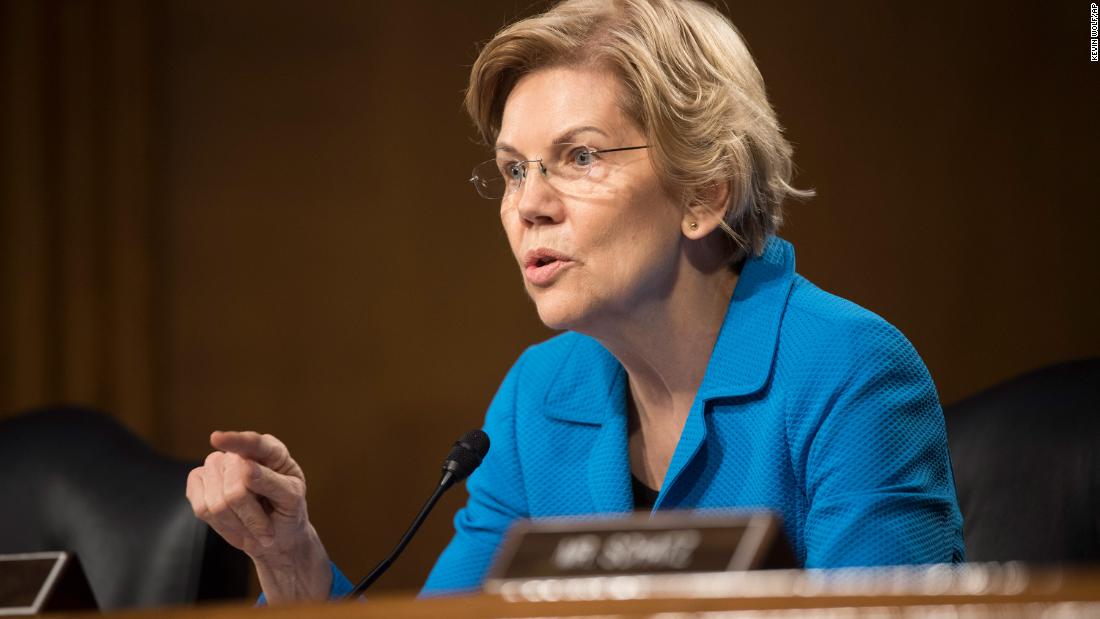 New York (CNN Business)Senator Elizabeth Warren believes the regulatory system is rigged in favor of "big, rich banks."
"Your approval process in itself appears to be a rubber stamp. Everything is happening behind closed doors," Warren told Fed chief Jerome Powell during a Senate hearing.
Warren, a presidential candidate, took issue with a practice the banks use to privately discuss potential deals with Fed staff members — and then quietly withdraw merger applications if there's opposition. The public, on the other hand, only gets to weigh in after the merger is announced.
"You and the banks get together in the back room and grease the wheels before the merger is announced," Warren said.
The sharp criticism of the Fed demonstrates how the 2020 presidential race will keep the political pressure on Wall Street. More than a decade after the 2008 crisis,
the big banks that survived the meltdown
have only gotten bigger. And that has made them even larger targets for the likes of Warren and Senator Bernie Sanders, an independent who caucuses with the Democrats and is also running for president.
The comments come as the Fed awaits its biggest bank merger application in years. Earlier this month,
BB&T
(BBT)
and
SunTrust
(STI)
announced a $66 billion marriage
. If approved by regulators, the deal would create the nation's sixth-largest bank with about $450 billion in assets.
"I'll bet that SunTrust and BB&T looked at that 100% merger success rate and saw what everyone else sees: that the Fed works for big, rich banks that want to get bigger and richer," Warren said.
Powell promised the Fed would consider input from various groups as it carefully weighs the BB&T-SunTrust deal.
"We're going to conduct a very fair and open process," Powell said.
'Not a single no'
But Warren noted that Powell wrote in a May 2018 letter that the Fed hasn't denied any of the 3,819 bank merger applications it has received over the past decade.
"Not a single no," Warren said.
Powell's letter pointed out that about 13% of applications are withdrawn before the Fed reaches a decision.
Warren expressed concern about the side effects of bank mergers, including the impact on the local community.
"Everyone else pays the price for diminished competition, for worse service, for higher prices, for employee layoffs," she said.
She pressed Powell to give the public greater say in the approval process.
"It's time we put down the rubber stamp … before we create yet another too-big-to-fail bank," Warren said.
Read more: https://www.cnn.com/2019/02/26/business/elizabeth-warren-fed-powell-bank-mergers/index.html