One of the biggest frustrations for companies pursuing mega-mergers is the regulatory approval process. It's long. It's cumbersome. And for CVS Health Corp., that may be a godsend.
CVS, the Woonsocket, Rhode Island-based drug-store chain and pharmacy-benefit manager, is said to be on the verge of a $66 billion takeover of Aetna Inc., a health insurer based an hour and a half away in Hartford, Connecticut. When the talks were initially reported in October, analysts and investors were dubious given that CVS doesn't have experience operating a major insurer. But the strategic rationale isn't so bonkers, as Gadfly's Max Nisen explained here, and the transaction is far enough along that an announcement may even come Monday. 
Still, there's one enormous outstanding question: CVS, how exactly do you plan to pay for this monster deal?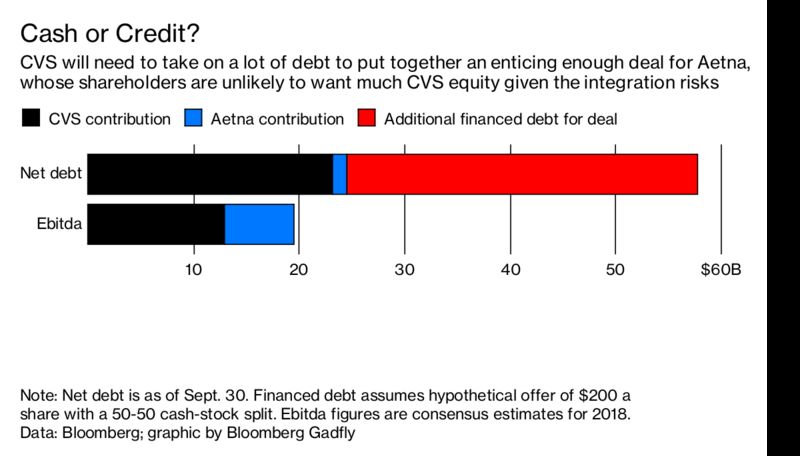 No matter how you slice it, the math is fragile. A lengthy review by antitrust regulators could be just what CVS needs to buy time to strengthen its balance sheet and make the numbers work better. 
Bloomberg News, citing a person familiar with the negotiations, reported that CVS will likely pay at least $200 a share for Aetna, with more than 30 percent of its offer in the form of cash. The Wall Street Journal is hearing between $200 and $205 a share comprising  cash.
Let's assume the low end of the range, $200 a share, and no synergies (there won't be many anyway): At 35 percent cash the deal looks quite dilutive, potentially shrinking next year's earnings per share by 8 percent, according to data compiled by Bloomberg. CVS shareholders won't like that. On the positive side, CVS's net debt would climb to 3 times the companies' combined trailing 12-month Ebitda, which is high but still manageable. As of last quarter, its ratio was around 2.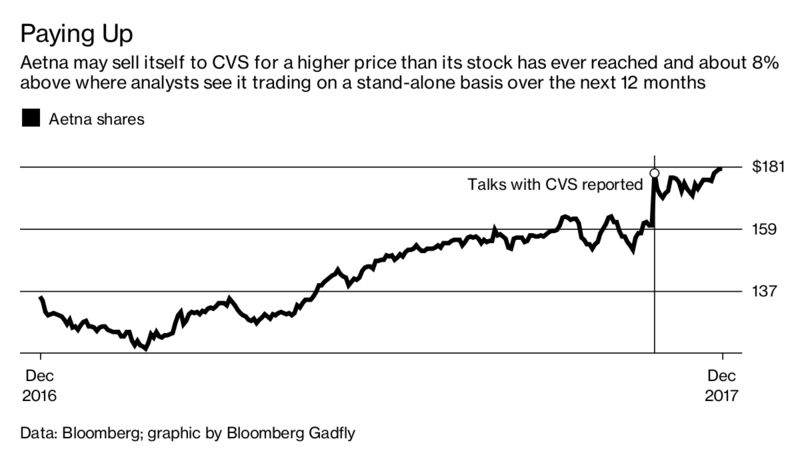 Aetna's stock closed at a record high Thursday, and a $200-a-share bid (or higher) is about as good as it's going to get in the near term. That's why Aetna shareholders are going to demand more cash and "minimize exposure to the integration and execution risk associated with CVS paper," as Leerink Partners analyst Ana Gupte put it in a report Thursday. I mean, that's not a good sign that your target's investors don't believe in the merger enough to want a significant stake in it. But CVS has few other opportunities, so it's likely to up the cash consideration to get the deal done.
The problem then becomes that at, say, 55 percent cash, net leverage would climb to an ugly ratio of 3.8. CVS is currently rated three levels above junk by both S&P Global Ratings and Moody's Investors Service, but an offer skewed toward cash would likely result in downgrades. 
There haven't been any successful health-insurance mergers of this magnitude. In fact, two big industry mergers — one involving Aetna – broke up on Valentine's Day earlier this year. Cigna Corp. canceled its sale to Anthem Inc., and Aetna and Humana Inc. withdrew their own deal. That leaves us to use Anthem's much smaller acquisition of WellPoint in 2004 as a guide, a deal that took 401 days to close. Plus with a political spotlight on health insurance and drug prices this year, it's likely that regulators would take a close look at CVS-Aetna.
During that time, the companies could use their strong free cash flow to build up cash, which "could be used to reduce debt afterwards, especially if share repurchases are halted," Carol Levenson, an analyst at GimmeCredit, wrote in a note Thursday, tucking in that potentially bad news for shareholders at the end.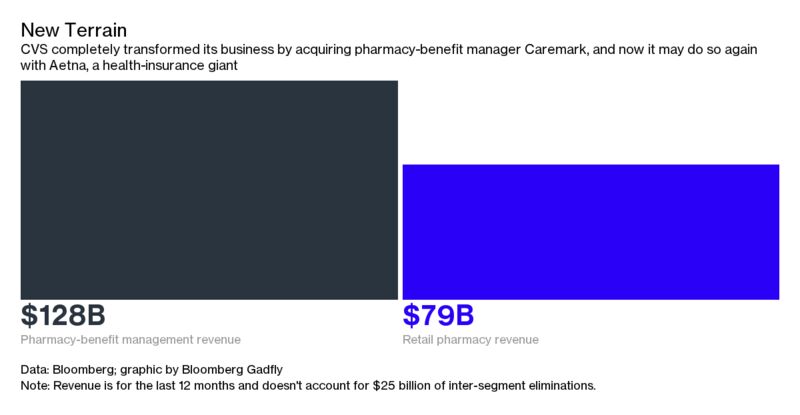 Transactions that are tricky to concoct tend to have the most uncertain fates. CVS is paying a premium for a stock already at a high and taking on a ton of debt to enter an entirely different line of business. That said, its decade-old purchase of Caremark was another out-of-the-box deal, and now that unit accounts for more than 60 percent of CVS's revenue.
But the fact that we're even talking about how government red tape could help CVS make this deal more financially feasible tells me Aetna shareholders would be justified in demanding as much cash upfront as they can. 
Read more: https://www.bloomberg.com/news/articles/2017-12-01/cvs-aetna-may-find-unlikely-ally-in-regulators