The surge in investor demand for exchange-traded funds that's transformed the U.S. investing landscape is just getting underway in Europe. The likely outcome is lower fee revenue, the Darwinistic death of underperforming active managers, and more mergers in the fund management industry.
The global universe of ETFs has surged by more than 70 percent in the past three years and currently tops the $4.5 trillion mark, according to figures compiled by Bloomberg Intelligence. More than $3.1 trillion of those assets are in the U.S. And as demand for low-cost trackers has climbed, the fees charged by mutual fund providers in the U.S. have steadily declined.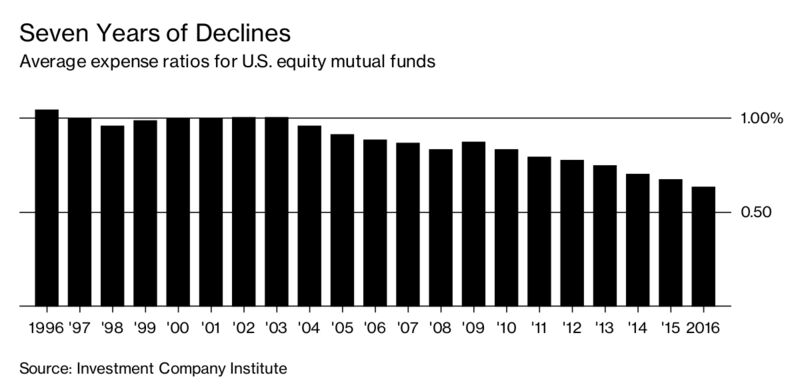 In stark contrast, the fees paid by European investors to mutual fund providers are still double what U.S. buyers were paying a decade ago, and more than six times higher than the levies on ETFs.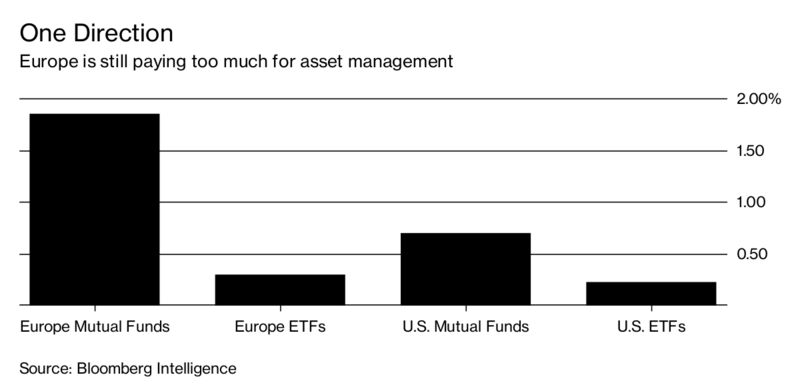 No wonder Europe has seen even faster growth in its ETF market in the past three years than the U.S. European assets have surged by more than 82 percent compared with the U.S.'s 65 percent expansion.
At three times bigger, the latter still dwarfs Europe's $860 billion of ETFs. But the European market is about to get a boost in the shape of the new MiFID II regulations slated to come into force on Jan. 3.
Bloomberg Intelligence analyst Eric Balchunas reckons the regulations, which require greater fee transparency and will also boost disclosure of ETF trading volumes, could help boost European ETFs by as much as 20 percent a year for the next half decade. That would double the European market to $2 trillion by 2022.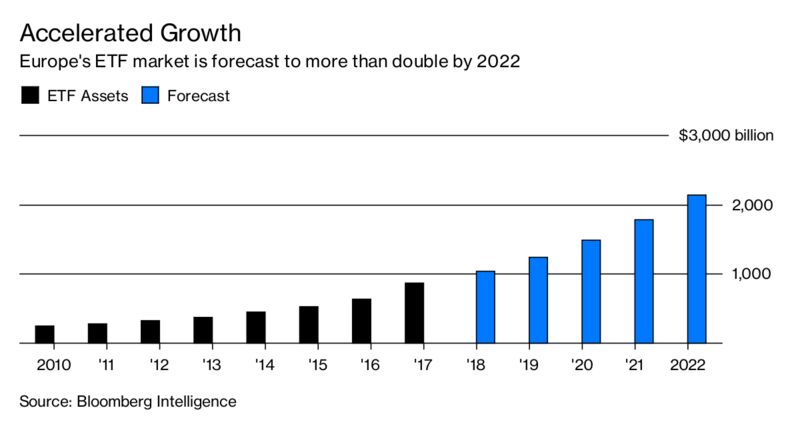 In a report published on Wednesday, Moody's Investors Service warned the active asset managers in Europe face "secular headwinds." The rating company noted that European asset managers were unable to increase their revenue from fees in the first half of the year amid "the accelerated rotation of assets into low-fee passive products."
The solution? "Industry consolidation will remain an important theme going forward, prompted by asset managers' increasing need for scale and operational efficiency as fees charged for actively managed investment products are pressured lower," Moody's says.
Asset management fees in Europe are headed in one direction and one direction only — lower. That's great news for retail investors seeking to stash cash for retirement. Fund managers in the region, however, should probably be seeking defensive mergers before the incoming ETF tide washes away their profits.
Read more: http://www.bloomberg.com/news/articles/2017-10-19/europe-s-fee-destroying-etf-revolution-is-just-starting