He will make up part of Chairman Powell's powerful policy trio

Now-San Francisco Fed president is holistically nonconformist
John Williams would have preferred one of his 20 pairs of tennis shoes. The U.S. central banker has a set for every occasion.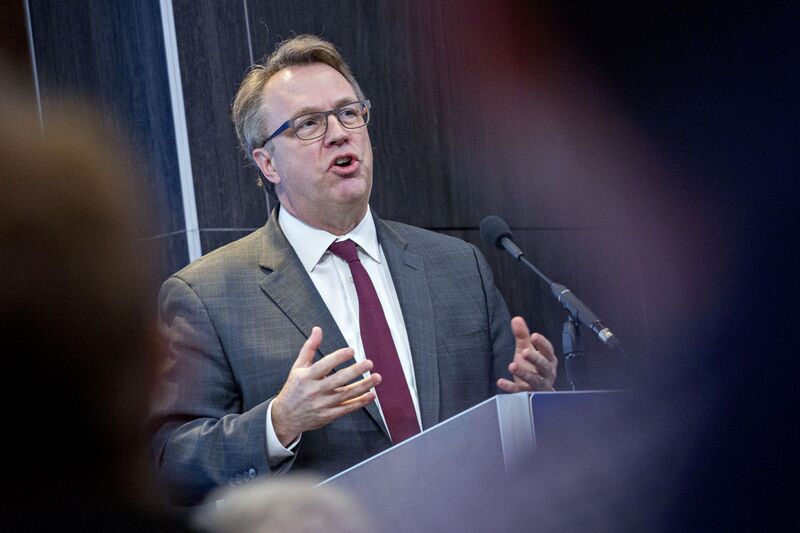 But a recent Friday found the incoming Federal Reserve Bank of New York president in dress loafers, speaking to bankers and entrepreneurs at the City Club in Los Angeles. Currently San Francisco Fed chief, he delivered a rare blend of economics dissertation and stand-up comedy.
He teased a woman about her shopping prowess, then joshed with a man who asked about Bitcoin that "you don't, actually, have to." Between wisecracks, Williams had a policy message: U.S. growth is strong, unemployment is low, and the Fed will gradually lift interest rates, probably three or four times this year.
Fed's Williams Shifts to N.Y. as Powell Shapes Policy Troika
Williams's quirks — his obsessions also include video games and Elvis Costello — set him apart from his more buttoned-up Fed colleagues. The style differences are about to gain a wider audience as the Californian takes the helm of the New York Fed, one of the most powerful positions in global central banking that sits at the intersection of Wall Street and the economy.
His nonconformity is relevant to the future of Fed policy, because it extends to his economics. While he's a centrist when it comes to interest rates, Williams made a name for himself from within the Fed system by poking holes in central bank doctrine. His pet project lately centers on convincing his colleagues to rewrite their entire inflation approach ahead of the next recession.
His views gained influence on Tuesday, when the New York Fed announced Williams will succeed William Dudley, a former Goldman Sachs executive, as the district bank's president. The move will make him part of Fed Chairman Jerome Powell's leadership team. The New York Fed president, the chair and the board's vice chair have in recent years formed a troika at the heart of Fed decision-making.
Williams is "probably one of the most prominent monetary policy experts around," said Roberto Perli, a former economist at the Fed Board in Washington. "What he gains as president of the New York Fed is that he will have a more active role in the decision-making process."
Financial Experience
What he doesn't have is financial-industry experience that might be useful as New York Fed chief. That's good for an institution worried about revolving-door optics. But it has also raised questions about whether he's the right pick to analyze financial markets for signs of stress, seize the bully pulpit when Wall Street excesses build up, or manage in the next crisis.
"The history of the New York Fed and the Fed system overall is one of managing financial crises, many of which originate in New York," said Mark Spindel, an investment manager and co-author of a recent book on the Fed system. "Williams seems oddly at ease with distancing himself from financial markets."
But the 55-year-old Williams has been shaping the Fed's theoretical debates for years, first as an economist at the Board in Washington and later as Janet Yellen's research director when she led the San Francisco Fed. In the early 2000's, he co-authored studies on how monetary policy ought to react to near-zero interest rates that informed the central bank's crisis-era decisions.
Then, as policy normalized, Fed officials used his body of work on neutral rates to justify removing accommodation only slowly. He and his co-author Thomas Laubach had shown that the interest rate which neither stokes nor slows the economy, also called r-star, had fallen. That meant the Fed didn't have to raise rates as quickly to prevent overheating.
"The r-star work was, and is, really important," Yellen, the Fed chair from 2014 to early 2018, said in an interview. "It ended up being quite fundamental to the way that the committee thought about policy and communicated it." Yellen is now a distinguished fellow at the Hutchins Center on Fiscal and Monetary Policy at the Brookings Institution, which is named after Glenn Hutchins, the private-equity executive who co-chaired the New York Fed search committee that recommended Williams.
As New York Fed chief, Williams may exert more influence. New York is always a crucial role, and its importance could be amplified by the fact that Powell could use a Ph.D. economist as a close ally. The Fed chairman is a lawyer by training and a careful listener with a reputation for tapping into the expertise of those around him.
Public Policy
Williams's father was an attorney who analyzed legislation for four California governors. Williams went to the University of California at Berkeley knowing he wanted to follow in his father's public-policy footsteps. After finishing his bachelor's degree, Williams pursued a master's at the London School of Economics and then a doctorate under thesis adviser John Taylor at Stanford University.
Williams started his career as a researcher at the Fed Board in Washington, taking a brief break to be a senior economist on Bill Clinton's Council of Economic Advisers. He moved to San Francisco as a researcher in 2002. Aside from a year spent lecturing at Stanford, he's been at the Fed's 12th district ever since, succeeding Yellen as president in 2011.
Williams's insider status hasn't prevented him from questioning how the central bank operates.
Fed policy makers adopted a 2 percent inflation goal formally in 2012, after years of targeting that level unofficially. The rationale is that with low and steady inflation, employers can raise wages and exert some pricing power without spooking consumers, and the economy won't easily tip into deflation.
Along with Boston's Eric Rosengren and Chicago's Charles Evans, Williams has been urging his colleagues revisit the magic number — perhaps moving it higher, perhaps by aiming for an average over time.
The logic? If the economy hit a recession with a low neutral rate but higher inflation, it would give the Fed more room to cut the policy rate before they hit zero and run low on ammunition, since the federal funds rate doesn't subtract out price gains.
Williams could see some push-back from his boss: Powell said March 21 it was "not something I see us as needing to urgently address." But Williams's promotion could help him to push the conversation about a low-rate future forward. Plus, he's always viewed it as a longer-run priority — not something requiring immediate change.
"He's doing the right thing by raising these questions," said former U.S. Treasury Secretary Lawrence Summers in an interview.
Read more: http://www.bloomberg.com/news/articles/2018-04-03/williams-goes-to-new-york-heavy-on-economics-light-on-markets