The line between symbiosis and mortal combat is a fine one, both in the C-suite and at the cellular level. Michael Singer and Ben Favret thought they had the former when they began making plans for a better, safer line of medical apparel—a super scrub, if you will.
Singer is chief executive officer of Strategic Partners, a manufacturer that controls an estimated 40 percent of the U.S. market for scrubs. Favret, a former pharmaceutical executive, is founder of Vestagen Protective Technologies, a startup launched in 2009 with the goal of making a bacteria-proof medical uniform.
"He just seemed interesting, infectious in his enthusiasm," Singer said of meeting Favret. "And he helped convince me antimicrobial was going to be something in the future."
Last month, the men and their respective companies faced each other across a federal courtroom in Los Angeles—each having sued the other. Their fleeting partnership had turned toxic as both accused the other of tearing their respective company apart. Vestagen was making false and illegal promises about its product, Singer alleged. Singer had poached one of Vestagen's key employees and stole trade secrets, Favret claimed. As the Swift anthem goes, we got bad blood.
The humble hospital scrub, ever saggy and often scratchy, is never in style—or out of it, for that matter. Rather, it's beyond sartorial judgment. Instantly recognizable, it's simply a given for most of America's 19 million health-care workers, as essential as latex gloves and bitter cantina coffee. At the moment, almost one in seven U.S. workers falls into the scrub-set, a metric that's expanding quickly as baby boomers fade into their hip-replacement years.
Make no mistake, apparel seldom seems this easy. In other parts of the clothing business, fortunes are won and lost trying to forecast the fickle fashion trajectories of skinny jeans, retro sneakers, jumpsuits, and leggings. Abercrombie & Fitch is ripping off its logos and rushing to remake the kind of rugged adventure-wear that built its brand 50 years ago, and J. Crew Group has drifted to the brink of solvency as it struggles to find the right mix of rugby shirts and shift dresses. The sturdy scrub, meanwhile, has emerged as one of the safest spots in retail. Like the work-shirts and pants Americans wore back when the country was an industrial behemoth, health-care-wear is very much in demand in the modern service economy.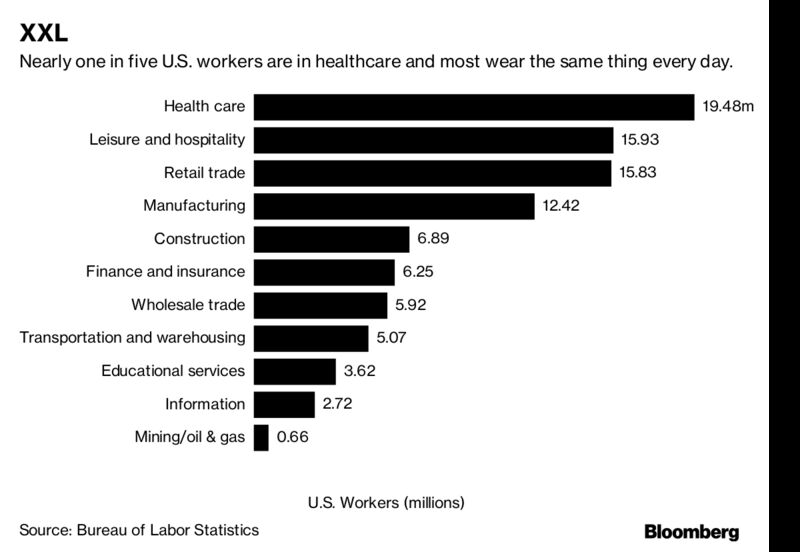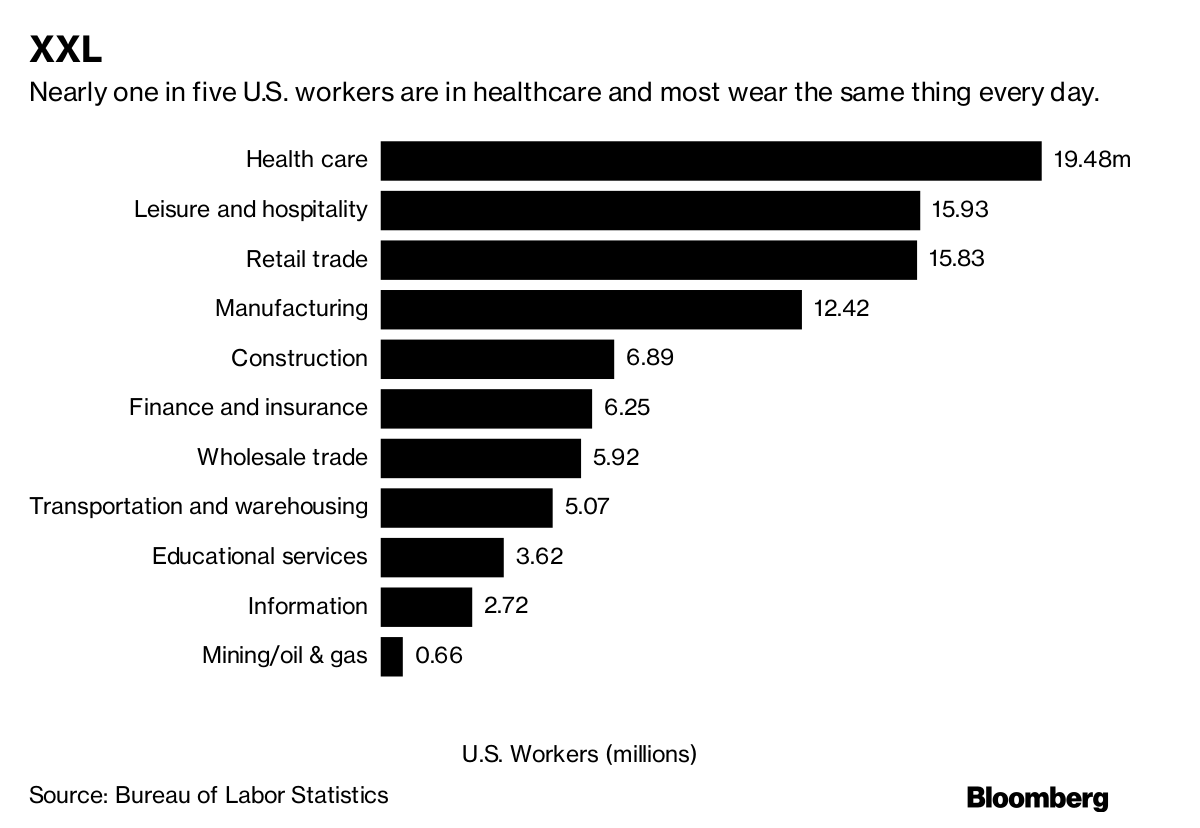 If medical apparel were a standalone business, it would be solidly among the world's top retailers, bigger than EBay, Foot Locker, and Tiffany & Co. Much of those spoils, at the moment, go to Strategic Partners, a business Singer started in 1995 when he bought the scrubs business out of bankruptcy from Cherokee. "The joke at the time was the three bestselling colors were white, white, and white," he said. He took control of 40 workers posting about $17 million in annual sales.
Over the years, the company added colors and patterns, moved production to Mexico and later to Asia while gradually building out a closet of brands. It added a studio where it created designs and cut licensing deals so it could put cartoon characters on pediatric scrubs to cheer up sick kids.
In the early 2000s, Strategic began building web stores for its retail partners, taking the orders and shipping the product directly. Most of the retailers weren't putting much focus on the internet at the time, and it was a crafty way to box out competing brands. By 2005, the company had almost 500 employees and a deep bench of captive manufacturing partners. Five years later, it acquired the license to make a line of "Dickies" scrubs and added another 30 employees. 
Around that time, Singer started talking to Vestagen and other startups about antimicrobial treatments. Vestagen, which declined to be interviewed for this story, citing the ongoing legal battle, had developed an "active barrier" to repel fluid from fabric and kill bacteria via an electrical charge.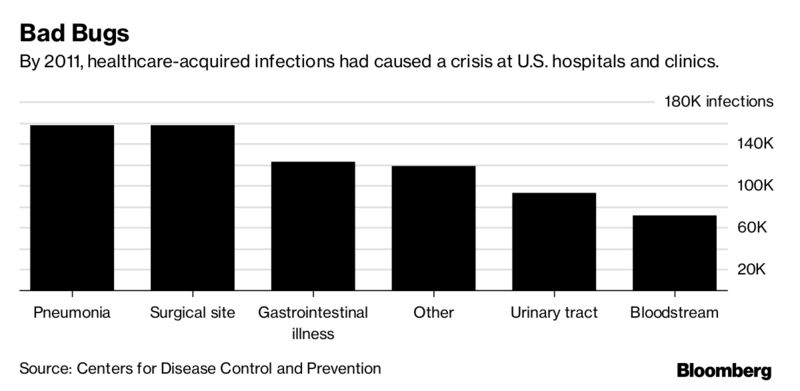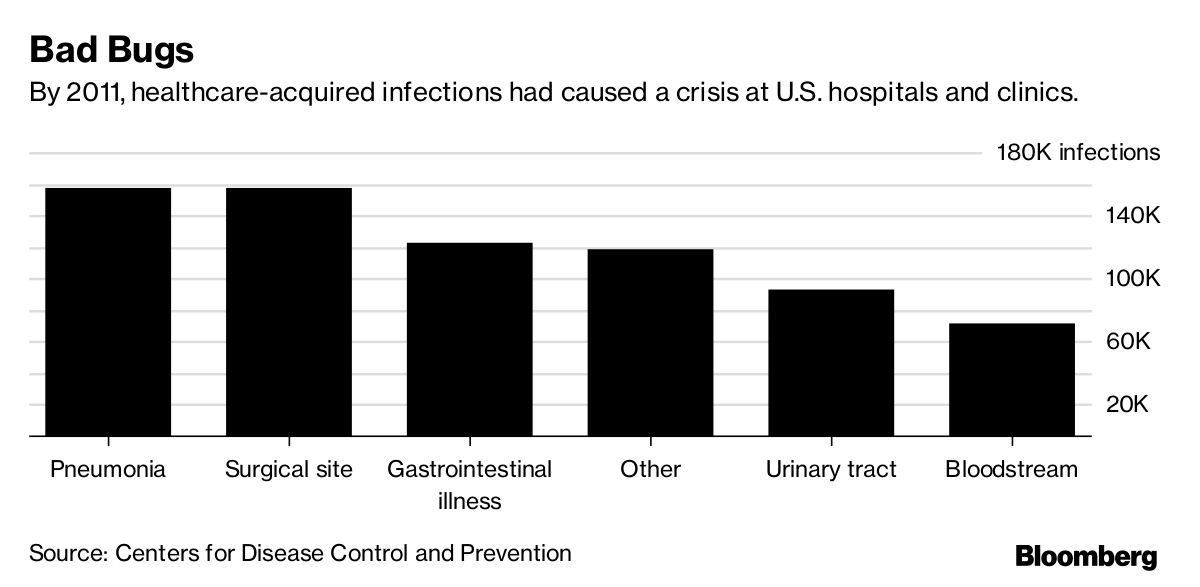 Vestagen's timing was propitious. As it was looking for manufacturing partners, bacterial infections were running rampant in America's hospitals and clinics. In 2011, patients at acute-care facilities came down with almost 722,000 so-called health-care-associated infections, pneumonia being the most common. Almost one in 10 of those patients died, or about 70,000, according to the Centers for Disease Control & Prevention. Not surprisingly, insurance companies began adding clauses to their coverage so they wouldn't have to pay hospitals for bacterial outbreaks.
The simple scrub, meanwhile, was starting to look like a disease vector. The CDC estimates that one in 25 patients currently hospitalized has contracted some kind of infection just by being there. 
Most of the folks who wear scrubs have to buy their own, despite the fact the job typically requires them, be it a hospital, doctor's, dentist's, or veterinarian's office. Apparel makers can line up discounts and distribution deals, but ultimately the consumer can buy whatever uniform he or she wants, provided it's the specified color. This little wrinkle in the market, it turns out, presented an opportunity. While lawyers for Singer and Favret fight, a host of startups have discovered there's a lot of money to be made in this sleepy-yet-lucrative segment. Moving on from mattresses, eyeglasses, razors, and booze delivery, the world's direct-to-consumer disrupters have discovered scrubs.
FIGS was launched in 2013, offering antimicrobial, wrinkle-free uniforms in a range of flattering designs, solely through its own web store. Founder Trina Spear said she warmed to the idea at investment firm Blackstone Group, where she said she worked on a financing deal for Strategic Partners. In the financial reports, Spear said she noticed a staid company with margins around 40 percent.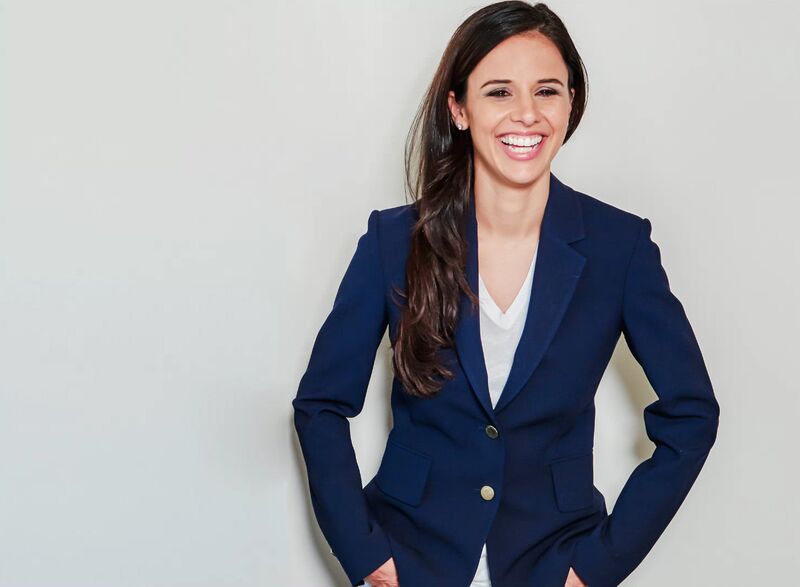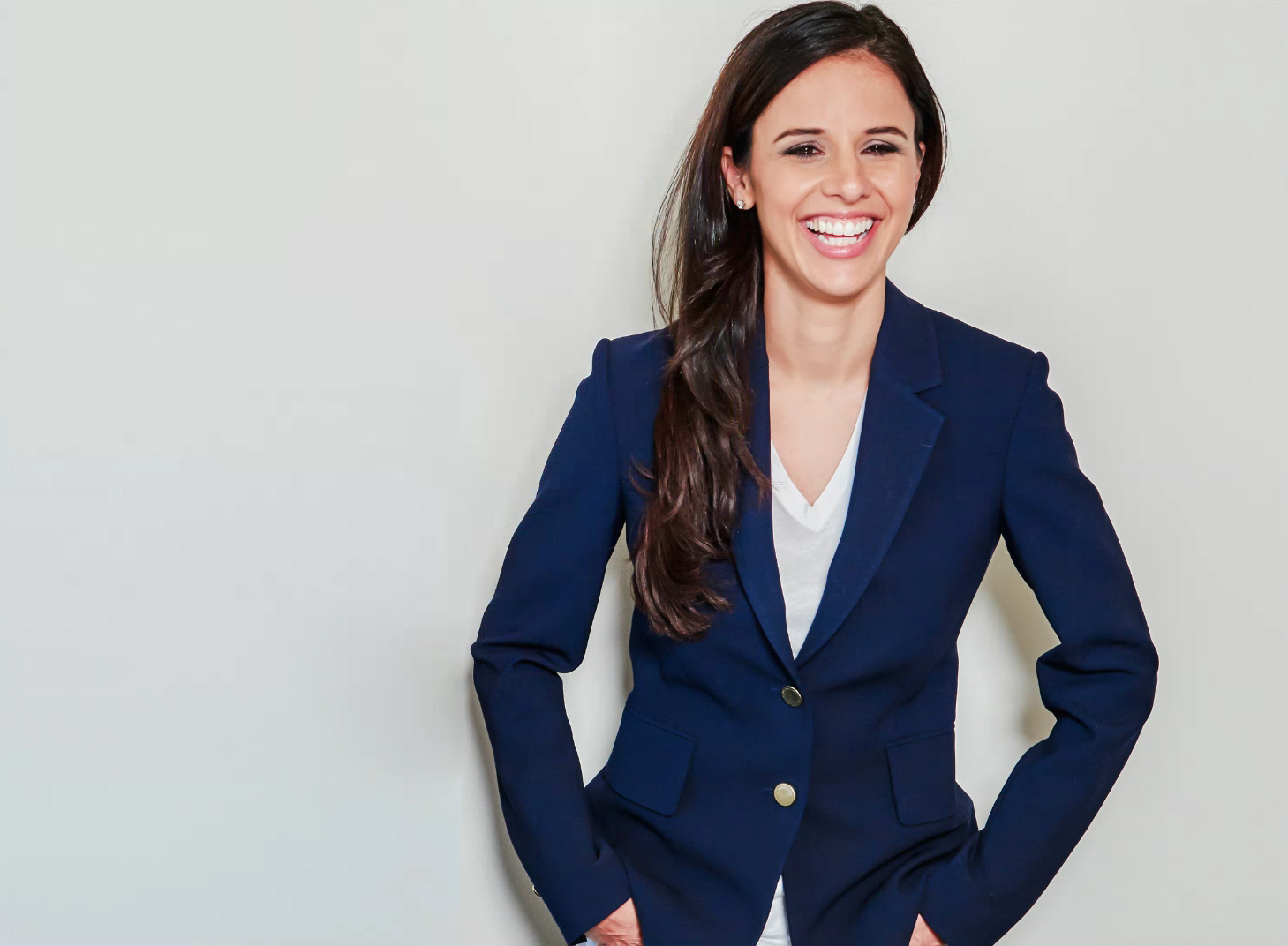 "It's a massive industry that no one knows about and no one talks about," she said. "It's been around for about 100 years with zero change and zero innovation." Her company sold out of its first batch in 23 days and has struggled to keep up with demand. Now FIGS has spread into lab coats, "underscrubs" (read: T-shirts), and hoodies. 
About a year later, Jaanuu hit the market with a similar approach, launched by Shaan Sethi, a private-equity investor, and his pediatrician sister, Dr. Neela Sethi Young. Sethi said he was most encouraged by what he called a broken retail channel. Hundreds of different stores were selling scrubs, each store packed with a motley jumble of competing brands. 
"You'd go to a hospital and see 50 or 60 nurses in 50 or 60 different brands," he explained. "I had this idea in the back of my mind around this concept of trading up." Spear, at FIGS, is less diplomatic. "Honestly, it's hard for me to call them brands," she said. "Everyone is getting thrown a hodge-podge of crap."
Naturally, all this rankles Singer at Strategic, which is now owned by New Mountain Capital, a private-equity firm. The U.S. scrubs market is far smaller than his new rivals let on, he warned, and his designers have decades of experience developing more fashionable treatments. "I bristle a little when I hear Jaanuu and FIGS say these are just commodity products," he said.
It's hard, however, to find a brand evangelist in American hospitals—the field remains wide open. No label seems to have captured the kind of devotion Nike has among athletes or Lululemon enjoys with yogis. In just two years as a technologist measuring brain activity at the University of Iowa hospital, Mandie Wagner has purchased a closet full of scrubs. She said the Dickies are kind of itchy, the Cherokee brand doesn't fit very well, and the Grey's Anatomy scrubs collect pet hair. Her go-to, at the moment, is Cherokee's Infinity, a higher-end brand made by Strategic, although she is keen to try FIGS and Jaanuu. 
So far, the best feature Wagner has found isn't having to think about what to wear: "It makes my morning easier," she said. Wagner's colleague Wendy Sebetka hasn't settled on a brand, either. "Even though I buy the same styles, they all seem to fit a little differently," she said. "And everything I have purchased online I have had to return, which is a pain."
It still isn't clear how much of the segment has been swiped by FIGS, Jaanuu, and other new entrants. Both companies declined to detail revenue. FIGS now has 35 employees and increased sales 17-fold in the past two years. It has raised $10 million from investors in two different rounds. Of the customers it's won, more than half are ordering apparel from the company every month. "We believe we can take over the whole industry," Spear proclaimed. "That's our goal."
Jaanuu, meanwhile, has 50 employees and $7.6 million in venture funding. The company expects to triple revenue this year, thanks in part to a new line of plus-size scrubs and footwear. Its average order is $120—and when orders come, they come in clusters. When a customer buys in a small town in, say, North Dakota, a flurry of other orders pop up in the same location.
"You have to remember, this isn't Nasty Gal going after Forever 21," Sethi said. "We're going after a really, really sleepy market."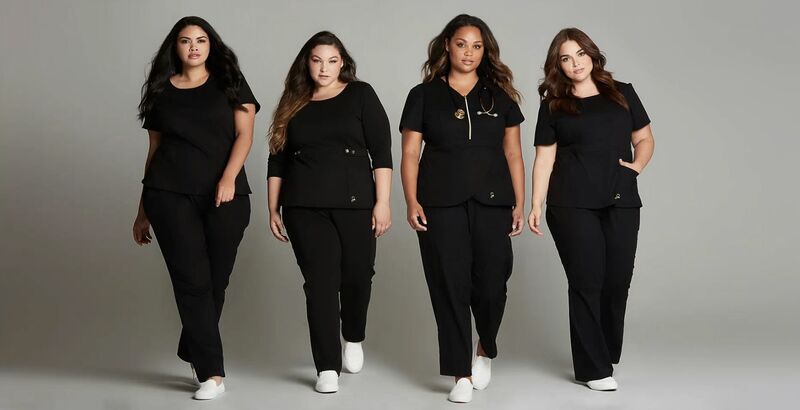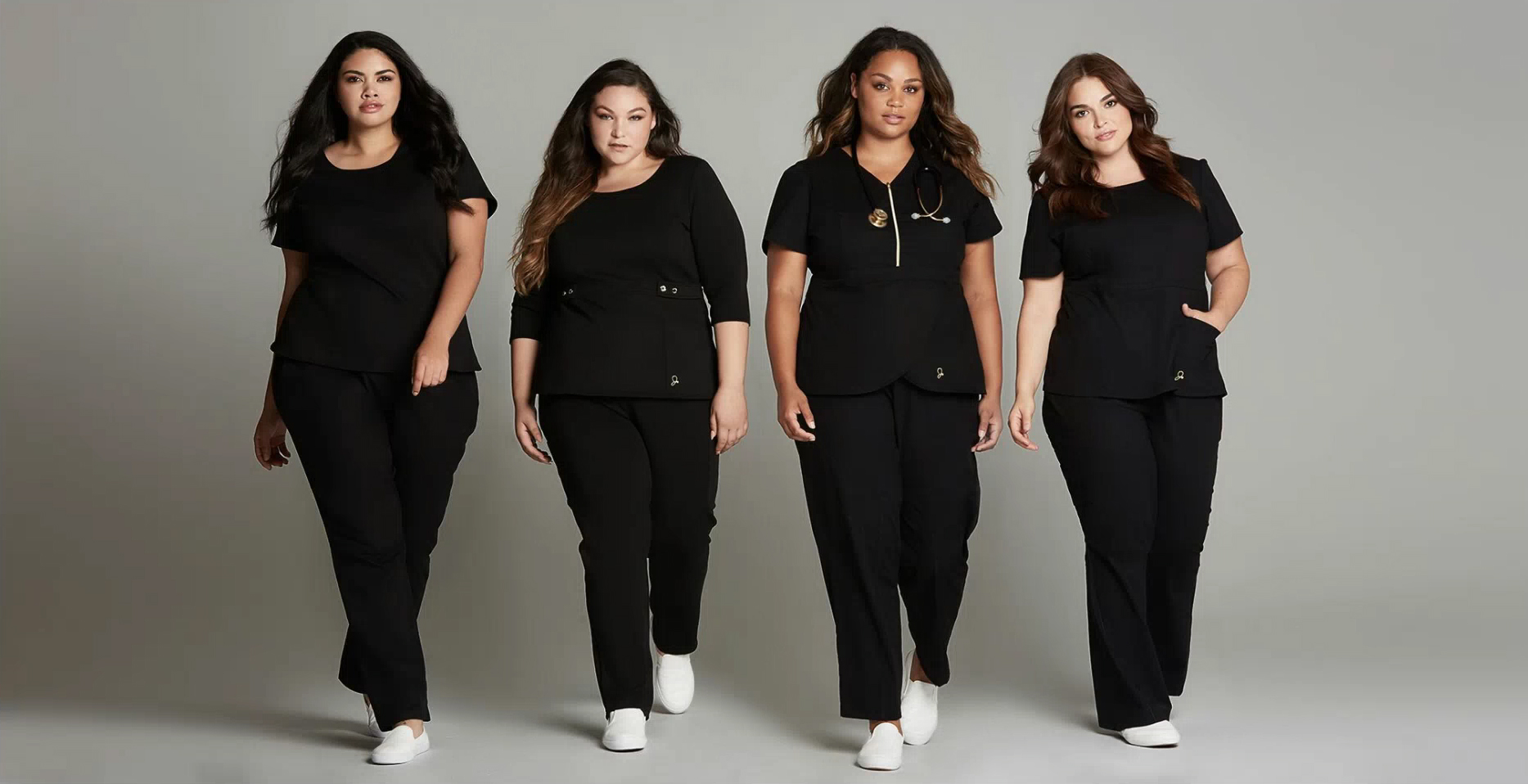 In the long run, Singer likes his odds of staying on top. His company now has almost 600 employees and last year sold $300 million worth of scrubs in the U.S. Working with Dow Chemical, it began selling an antimicrobial scrub in 2014 and a version with a fluid barrier a year later.
And despite the simplicity of the product, a scrubs empire requires a complex supply chain. At any given time, Strategic has about 85,000 items, across a range of brands, colors, and prints, and in a spectrum of sizes for both women and men.
"There aren't necessarily high barriers to entry, but there are high barriers to scale," Singer said. "There's styling complexities. There's sourcing complexities. There's long, long lead times and you have to manage all of this inventory as you go."
Back in the courtroom in Los Angeles, Vestagen's allegations of stolen trade secrets were rejected. The jury, however, dismissed Strategic's assertion that Vestagen had made false advertising claims. Vestagen promptly declared victory and announced another $9.5 million in financing. "We always believed that this lawsuit brought by SPI, a company many times the size of Vestagen, was being pursued in an attempt to stifle an emerging competitor," Chief Executive Officer Bill Bold said in a statement. Strategic, meanwhile, asked the judge to set aside the jury's findings.
While keeping an eye on the litigation, Singer is still pushing to expand Strategic's already big footprint. The company is seeing brisk demand for Careisma, a brand it launched last year with actress Sofia Vergara. In 27 years of business, Strategic has seen sales decline only once, in the aftermath of the financial crisis. Singer said he doesn't expect 2017 to be a second.
(
Corrects spelling of Sofia Vergara's name in last paragraph.
)
Read more: http://www.bloomberg.com/news/articles/2017-10-26/there-s-a-10-billion-fight-to-keep-you-from-dying-in-the-hospital