Rich and powerful lead crowd of 5,000 at 21st annual conclave

Financiers joined by experts in longevity, apes and politics
The next head of Goldman Sachs Group Inc., the chief executive officer of beleaguered Wells Fargo & Co. and the U.S. Treasury secretary will be there.
So will five-time Super Bowl champ Tom Brady and his supermodel wife, Gisele Bundchen. Kevin McCarthy, the Republican U.S. House majority leader, and Chuck Schumer, the Democrat Senate minority leader, will appear at joint and separate sessions as the 21st Milken Institute Global Conference kicks into high gear Monday in Beverly Hills, California.
Against a backdrop of bond prices plunging, U.S. stocks wobbling and President Donald Trump tweeting about unfair trade deals, many of the world's richest and most powerful people will swap ideas on topics from farming to philanthropy at Michael Milken's annual conclave. With an expected attendance of 5,000 and a more eclectic agenda than the World Economic Forum, some call the gathering "Davos of the West" or "Davos With Palm Trees."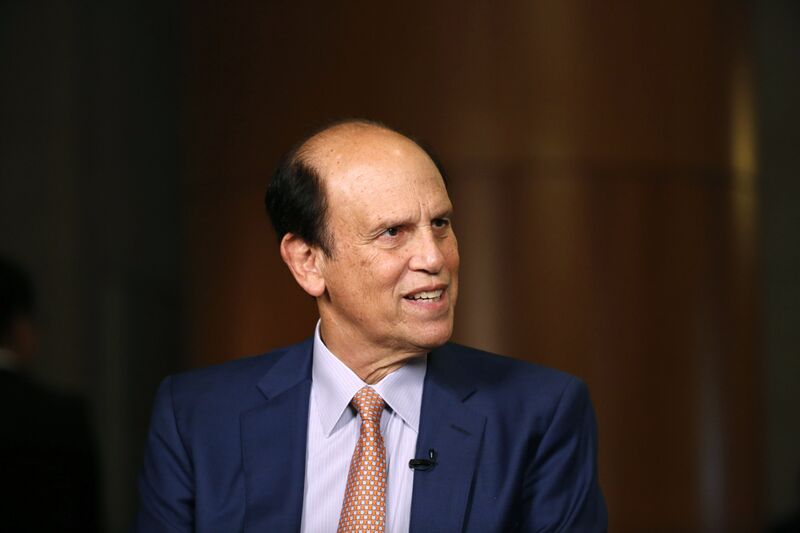 "Mike always assembles an array of fascinating individuals and things to talk about going on around the world, whether it's in the capital markets, whether it's about science or health care," said Eric Cantor, the vice chairman of Moelis & Co. and former House majority leader who's a Milken conference regular.
$50,000 Passes
Guests at the multiday mixer pay a partly tax-deductible contribution of at least $12,500. Everything is sold out except $50,000 "President's Circle Member" passes with perks such as access to receptions. That level doesn't guarantee entry to the invite-only events, including several that started over the weekend — closed-door round-tables with the likes of 3G Capital co-founder Jorge Lemann or ex-Google CEO Eric Schmidt.
"You can't just buy your way in," said Milken Institute spokesman Geoffrey Baum.
The more than 100 panels reflect the varied interests of the host, the billionaire philanthropist who helped pioneer junk bonds. Milken, 71, is set to take the stage with Treasury Secretary Steven Mnuchin, retired CIA Director David Petraeus and former Microsoft Corp. CEO Steve Ballmer. He'll discuss DNA technology with Facebook Inc.'s founding president, Sean Parker, investing in Africa and the Middle East with the leader of Rwanda and global trends with World Bank President Jim Yong Kim.
Private Meetings
Trump administration representatives include Commerce Secretary Wilbur Ross, who made headlines last year for an anecdote about how the president told his Mar-a-Lago estate dining companion, Chinese President Xi Jinping, over dessert that the U.S. had launched 59 cruise missiles into Syria. The update came "in lieu of after-dinner entertainment," said Ross, who built his fortune investing in distressed companies.
Read more: 'Government Sachs' thrives as Milken billionaires talk Trump
Much of the action happens offstage in hotel suites and poolside cabanas, where real estate magnates pitch deals to sovereign wealth fund managers. In the mansions of Beverly Hills and nearby Bel Air, party throwers compete to offer the most lavish entertainment. One private house bash in 2017 featured a cheetah named Bahati.
Beyond the money and power chatter, actress Goldie Hawn will discuss mindfulness. Actress-activist Ashley Judd will address her role in the #MeToo movement. Dr. Mehmet Oz will moderate a panel on the future of food. Jane Goodall will talk about chimpanzees.
Deal Cash
Almost 200 panelists come from the finance realm. Manny Roman, who oversees $1.77 trillion as CEO of Pacific Investment Management Co., will examine the investment landscape. David Solomon, recently named as Goldman's next likely CEO, and Wells Fargo CEO Tim Sloan, whose bank agreed to pay $1 billion to settle consumer scandals, will tackle leadership challenges. Leon Black and Sam Zell will chew over mega-deals.
Black, CEO of Apollo Global Management LLC, and Jonathan Sokoloff, managing partner of Leonard Green & Partners, may weigh in on putting private equity money to work after firms amassed a record stash of capital last year.
Read more: Milken on Drexel's legacy and negotiating with Carl Icahn
Black and Sokoloff are among the speakers and guests who worked with Milken in the 1980s, when he ran Drexel Burnham Lambert Inc.'s high-yield debt team before pleading guilty to securities fraud. In those days, Milken's confabs were nicknamed "The Predators' Ball" as leveraged-buyout kings reigned among the biggest financial celebrities. This year's speaker roster includes Drexel alums Mitch Julis and Mark Attanasio. Milken, a prostate cancer survivor, is also founder of the Prostate Cancer Foundation, which raises millions for research and promotes awareness of the disease.
Fearless Girl
The venue is the Beverly Hilton, the glitzy mid-century hotel where the Golden Globes are awarded and Milken held the original Drexel conferences. In tribute to the program's equality theme, this year the lobby will display the bronze Fearless Girl sculpture, fresh from her face-off with the Wall Street Bull.
Black Cadillac Escalades typically jam the circular driveway disgorging heads of state as security guards stand watch. In the lobby, guests might glimpse retired New York Yankee Alex Rodriguez ordering coffee, economist Nouriel Roubini queuing up for a TV interview or former Harvard President Larry Summers greeting an old friend.
"In a venue like this, where you could be sitting next to a titan of Wall Street, a governor of a state or somebody who runs an African nation, it just changes the dynamic," said Rich Ditizio, president of the Milken Institute. "We're trying to get people out of their silo."
Read more: http://www.bloomberg.com/news/articles/2018-04-29/milken-lures-mnuchin-goldman-s-solomon-to-davos-of-the-west