Between defending the Trump administration's tax cuts and imposing sanctions on North Korea, Steven Mnuchin found some time this week for the fun part of being Treasury Secretary.
Mnuchin spent a few hours Thursday touring the U.S. Mint in Philadelphia, where as many as 50 million coins a day are produced and shipped around the country. He ran his hands through unstamped pennies and operated a hydraulic press to strike two World War I commemorative coins, hitting two buttons to unleash 210 tons of pressure.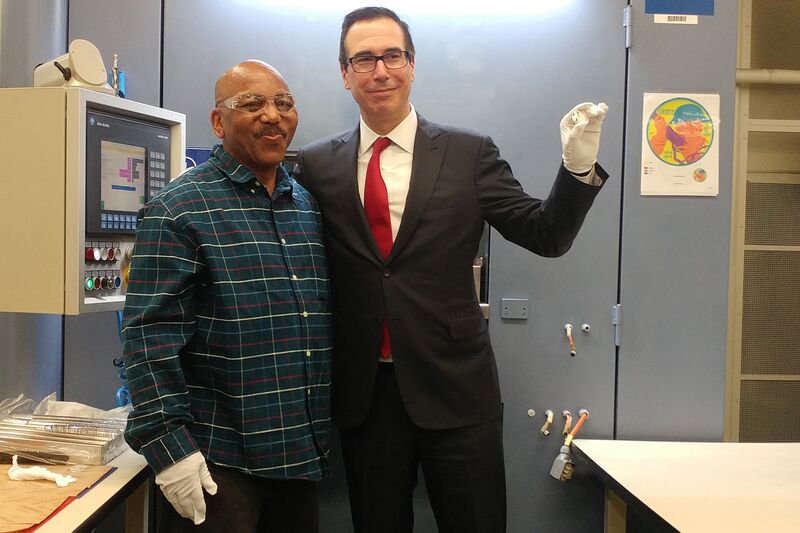 "Ok, next one!" he said after making his first coin, not waiting for the hydraulic press operator before grabbing a second blank quarter.
It was the third of the Treasury's mint facilities that Mnuchin has visited since becoming secretary, and he plans to tour the other three during his tenure. For Mnuchin, such stops allow him to promote President Donald Trump's economic policies outside of Washington, away from the capital's familiar political battle lines.
The 55-year-old former Hollywood movie producer is entering his second year in a job that has greatly expanded over the past two decades. For Mnuchin, a key part of the job is serving as Trump's chief economic cheerleader, selling the administration's policies to skeptics in the public and on Wall Street.
Crib Notes
Mnuchin has maintained a status as one of the most trusted cabinet members for a president who places a high value on loyalty proven over time. He was an early Trump backer, serving as finance chief for the 2016 campaign.
One of the chief tasks these days for Mnuchin, who follows predecessors in visiting Treasury's outposts around the country, is to promote the tax overhaul and cuts the president signed into law in December.
"One of the reasons why the president won the election is because most middle class Americans had very little wage growth," he said in an interview aboard the train to Philadelphia on Thursday.
Mnuchin has embraced much of this role, and among the crib notes he carries in his jacket pocket, printed on Treasury Department stationary, are data on G-20 nations, such as their public-debt-to-GDP ratio. He likes to point out how strong the U.S. is by comparison.
The U.S. public debt has grown to $20.8 trillion during the Trump presidency.
Read more: Mnuchin Sees Production of Dollar Bills With His Signature
Even so, his ability to fulfill the Treasury Secretary's roles communicating to financial markets and building international consensus on economic issues has been questioned by officials from other Group of 20 nations. Last month, in remarks at the Davos World Economic Forum, he caused a stir after straying from customary comments supporting a strong dollar, drawing rebukes from finance ministers and central bankers, including Mario Draghi from the European Central Bank.
Flying Coach
Mnuchin was instantly recognizable as he rode the Acela express early Thursday from Washington to Philadelphia. Getting on and off the train, carrying his own luggage and Tom Ford-label suit bag, passengers knew who had just walked by — not because of his time financing Hollywood movies behind the scenes, but in front of the cameras as Trump's chief economic adviser and cabinet member.
Wilbur Ross and Gary Cohn, luminaries on Wall Street, are now among Mnuchin's colleagues.
Mnuchin is making conspicuous use of commercial transportation these days, after early missteps tainted him with a reputation for taxpayer-funded luxury. His use of military planes for domestic travel, a rarity for Treasury secretaries, led to an embarrassing investigation by the department's inspector general. Mnuchin was cleared of any wrong-doing but received a scolding reminder to be more rigorous in documenting the need for such expenses.
Flying economy has its own perks. On a flight returning from Columbus, Ohio, in November, a passenger sitting nearby recognized Mnuchin. Getting off the plane, the passenger said he wanted to share how happy he was about the tax cuts and the impact to his small business, but said he was too shy — and ran off before even sharing his name.
His mint tour included an encounter with an autograph-seeker — a technician who had brought an 8-by-10 photo of the Treasury secretary in to work on the chance they would meet. Mnuchin smiled and put an arm around over the man's shoulder, then asked for a photo to capture the moment.
The morning after his tour of the Philadelphia mint, he was back at the White House and in front of the cameras for a live briefing unveiling sanctions against North Korea.
Read more: http://www.bloomberg.com/news/articles/2018-02-23/mnuchin-relishes-his-star-turn-in-cabinet-and-trump-s-favor