The Paradise Papers tax leaks point the finger at several multinationals, like Apple Inc. and Nike Inc., arguing that they don't pay their fair share. The companies insist they're fully compliant with the law. Despite fist-pounding from politicians and regulators, investors barely blink. Shares remain unmoved.
Things have been a bit different for a stock-market fintech favorite, Wirecard AG. Shares of the German payments and banking services provider, whose clients include Orange SA and Carrefour SA, are down 4 percent after a name-check by newspaper Sueddeutsche Zeitung in its Paradise Papers coverage. The report connects Wirecard to transfers for gambling providers that are allegedly illegal. Wirecard's response is that its business with online casinos is "100 percent" legal.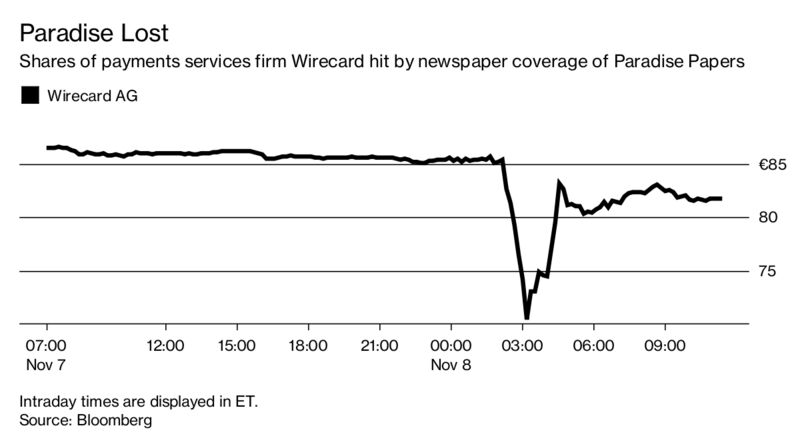 Why should Wirecard shares suffer more than others? The press report names other banks allegedly in breach of the law, but only Wirecard was hit. The report says these banks insisted they always comply with German law. The report also makes clear that German law is a muddy affair: Online gambling is banned and there is a state monopoly on games of chance, but the European Court of Justice has argued the German regime is incompatible with EU law. Local states have pushed for changes to the rules.
One reason for the skittishness around Wirecard is past (and strongly denied) allegations of impropriety—including facilitating the evasion of U.S. restrictions on internet gambling—making the company vulnerable to sell-first-and-ask-questions-later trades. It rejected these claims as "slanderous" and survived a swarm of bets that its shares would fall. At the peak of short-seller interest, about 25 percent of Wirecard's outstanding shares were on loan, according to IHS Markit data. That has fallen to about 4 percent as the shares have soared. But investors have long memories.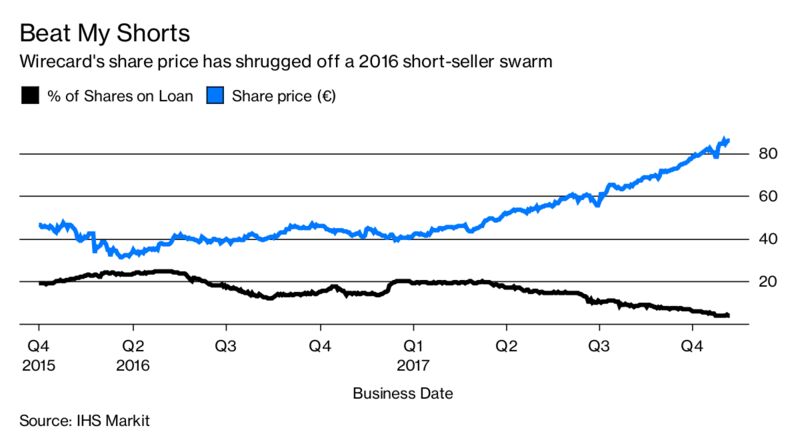 Wirecard shares are very expensive too, trading at 38 times forward earnings. That's higher than a median peer multiple of about 25 times, a sector aggregate that is itself inflated by enthusiastic growth projections and a flurry of mergers in online payments.
There were already reasons for caution. Wirecard's impressive double-digit growth is expected to start slowing next year, according to Bloomberg data, and intense competition will probably keep crimping transaction fees. Any bad news would dent a valuation that is pricing in rip-roaring expansion.
And overall, there's the sense that if this type of press attention leads to increased oversight or regulatory scrutiny, it will be flashy fintechs that suffer more than old-school banks, whose problems are well-known. Tech-savvy challengers trade on an ability to acquire customers, stake out market share and strike mergers.
There's a corresponding focus on keeping costs slim. Wirecard had a group tax rate of less than 15 percent in 2016 and an Ebit margin of 23 percent, according to Bankhaus Lampe research. More spending on managing risk would make profit targets harder to hit and richer dividends less likely.
It's not clear whether any of these new allegations will have much impact. But it's a useful reminder that the flashier the fintech stock, the harder the potential fall.
Read more: http://www.bloomberg.com/news/articles/2017-11-08/paradise-papers-make-queasy-reading-for-fintech-fans