Rest easy, kids. Toys "R" Us Inc. isn't going anywhere, at least not if the makers of Barbie and Transformers have their way.
The toy chain filed for bankruptcy-court protection Monday night, another in a string of specialty retailers felled by Wal-Mart Stores Inc., Amazon.com Inc. and the rest of the online onslaught. Toys "R" Us had been hobbled by more than $5 billion in debt, which required over $400 million a year to service.
Yet, the company, which operates about 1,600 stores globally, will likely survive because manufacturers such as Mattel Inc., Hasbro Inc. and closely held MGA Entertainment Inc. need the last remaining toy chain. These vendors are eager for whatever remaining leverage they have against the might of Amazon and Wal-Mart, the bane of all companies focused on a single category of shopping.
"Oh my God, they are very important, and people don't understand," Isaac Larian, founder and chief executive officer of MGA, said of the toy chain. "That's the only place where kids can go and just buy toys. There is no toy business without Toys 'R' Us."
For its part, the company said it doesn't plan to close stores and will continue normal operations at its namesake outlets, as well as Babies "R" Us, and their websites. In an interview, Chief Executive Officer Dave Brandon stressed the company's long history with manufacturers.
"The last thing I'm worried about right now is the vendor support," he said.
In fact, many of its agreements with debt holders prohibit the company from closing stores, restricting its ability to slim down. Its 255 stores outside the U.S. and Canada aren't part of Monday's filing.  
Propped Up
In many respects, suppliers have been propping up Toys "R" Us for years, according to Moody's Corp. analyst Charlie O'Shea; they give the chain exclusive products during the holidays and funds for promotions to help it compete with the general merchandisers. The manufacturers offer this support because they want a place to sell toys at full price, year round. Major brands have also been funding an overhaul of Toys "R" Us stores by adding more featured areas for top brands such as Mattel's American Girl dolls.
In electronics, Best Buy Co. holds the same last-chain-standing mantle after Circuit City and HHGregg disappeared. In books, Borders went belly up, while Barnes & Noble Inc. remains. Similarly, KB Toys perished, and Toys "R" Us will likely limp along.
During a Chapter 11 bankruptcy filing, a company continues operating to give it a chance to come up with a plan to repay at least part of its debt. The toy chain has received a commitment for more than $3 billion from new and existing lenders to ease its debt burden and fund operations during bankruptcy.
Toys "R" Us filed now because 40 percent of its vendors stopped shipping, unless they received cash on delivery. Brandon said the company needed to build inventory in time for the holiday season, which accounts for 40 percent of annual revenue.
Key Vendors
That means suppliers' support for the reorganization plan is key to emerging from bankruptcy, according to Noel Hebert, an analyst for Bloomberg Intelligence.
On the first day of the bankruptcy proceedings, the company sought to win over large vendors by getting approval to pay them some of the tens of millions they're owed as creditors. This group includes Mattel, Hasbro, MGA, Lego A/S, and Jakks Pacific Inc., according to a person familiar with the situation.
"Vendors are why they are in, they will be a big part of why they get out," Hebert said.
A case in point: Borders ended up liquidating after its filing because suppliers wouldn't support a reorganization. Once Toys "R" Us does emerge, Mattel and Hasbro will have to keep helping revamp its stores and offering flexibility to compete with Amazon and Wal-Mart on price.
In the toy business, the incentive is particularly powerful. Last year, Toys "R" Us accounted for 11 percent of sales at Mattel and 9 percent at Hasbro — the second most at both companies after Wal-Mart. Since the filing Monday, Mattel's shares are little changed, while Hasbro's gained 1.9 percent.
Further bolstering its prospects, Toys "R" Us's underlying business, which generated $11.5 billion in sales last year, remains solid. Though the company hasn't reported an annual profit since its 2013 fiscal year because of interest payments, its operating income last year actually rose 22 percent, to $460 million.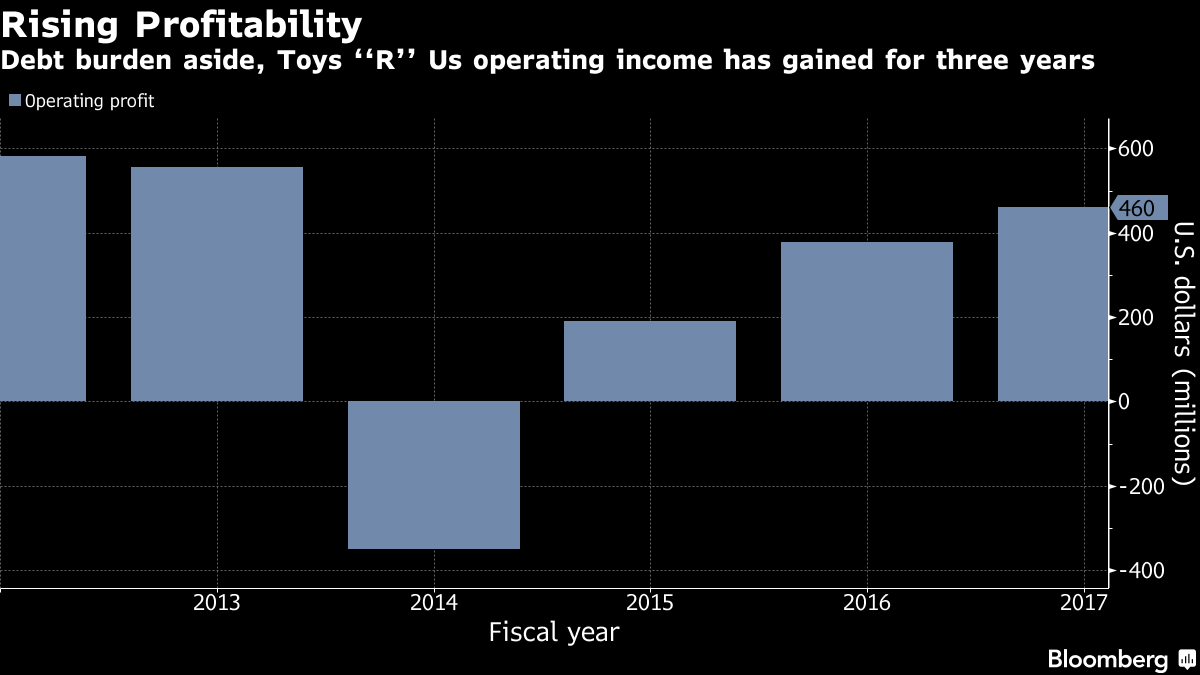 Still, it's a far cry from the once fast-growing heyday of the Wayne, New Jersey, company, founded in 1948 when Charles Lazarus opened Children's Bargain Town, a baby-furniture store. In the early 1990s, sales grew at a 10 percent annual clip; last year, they dipped 2.2 percent. Despite early success online, the company struggled to find the money to make investments in technology.
The company's main problem is debt, the legacy of a leveraged buyout more than a decade ago. In 2005, taking the company private, Bain Capital, KKR & Co. and Vornado Realty Trust loaded it with $7.5 billion in borrowing, and the company has been hamstrung ever since. The private equity companies could lose their funds' entire Toys "R" Us investment of $1.3 billion, since equity holders are typically wiped out while banks and bond holders are paid first.
Though many suppliers cut back shipments, Van Nuys, California-based MGA, best known for its Bratz dolls, kept on at the normal pace, according to founder Larian. Toys "R" Us backed MGA's collectible L.O.L. Surprise Dolls, making a big order, placing it at the front of stores in January. That support helped make the dolls among the world's bestsellers, Larian says.
Two other key vendors, Transformers-maker Hasbro and Mattel, said they were standing by the company. Mattel, the largest toymaker, called Toys "R" Us "one of our most important retail partners." Wicked Cool Toys, which makes Cabbage Patch Kids, is on board, too.
"We need them," said Michael Rinzler, co-founder of Wicked Cool Toys. "They have the broadest selection, and they've always been the most supportive of entrepreneurial companies. Everyone wants this to not be real or a temporary blip."
Read more: http://www.bloomberg.com/news/articles/2017-09-20/toys-r-us-lives-on-because-mattel-and-hasbro-can-t-let-it-die