As a presidential candidate, Donald Trump promised to leave the issue of marijuana legalization to the states. Then he chose Jeff Sessions as his attorney general, and it was only a matter of time before that changed. Sessions has long pined for a crackdown on pot. "Good people don't smoke marijuana," he said in 2016. As a senator from Alabama he watched over the past few years as eight states voted to legalize the drug for recreational use, despite federal laws that still treat pot as a controlled substance on a par with heroin.
On Jan. 4, Sessions reversed an Obama-era policy of leaving decisions about pot laws to the states. The change gives the 93 U.S. attorneys discretion to bring cases against recreational pot businesses and users. A U.S. Department of Justice press release promised "a return of trust and local control to federal prosecutors" and "to reduce violent crime, stem the tide of the drug crisis, and dismantle criminal gangs."
The move sets up a potential legal battle between states and federal prosecutors. It also threatens to widen a rift in the Republican Party, pitting social conservatives against younger, more libertarian, and business-minded Republicans, who either disdain federal meddling or view legal marijuana as something an economic nationalist like Trump should embrace—a flourishing, job-creating domestic industry. A federal crackdown risks chilling the growth, creating even more pressure on the divided GOP.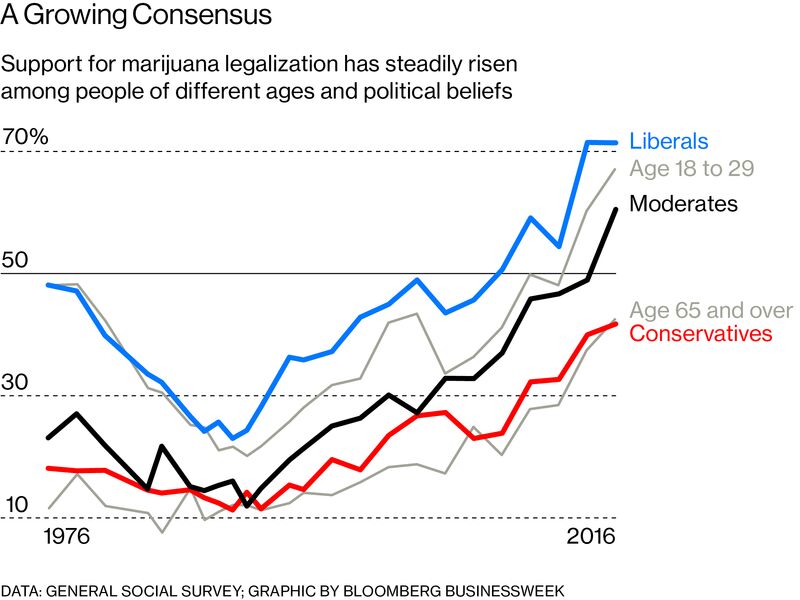 Legal marijuana sales in the U.S. hit $6 billion in 2016 and will reach $50 billion in a decade, according to the investment bank Cowen & Co. Tax revenue from these sales has been a boon for state governments. In Colorado, which legalized recreational pot in 2012, sales topped $1.2 billion through the first 10 months of last year, leading to an infusion of tax revenue that's been used to improve schools and fight the opioid epidemic. In Washington, where there's no state income tax, cannabis fees and taxes contributed $319 million last fiscal year that the state uses to prop up its general fund, pay for health care, and enforce its pot laws. In California, where recreational pot went on sale for the first time on Jan. 1, state and local tax revenue could exceed $1 billion a year by the mid-2020s, according to the nonpartisan Legislative Analyst's Office. And right now, a majority of Americans—64 percent according to a Gallup poll from October—believe pot should be legal.
"It's too late to put the cat back in the bag," says Robert Mikos, a professor at Vanderbilt University who specializes in drug law. "It's hard to get a precise figure, but there are probably 5,000 companies authorized by their states to produce, process, or distribute marijuana. The federal government doesn't have the resources to stop that." U.S. attorneys must balance those limited resources with the political desires of their boss in D.C. and the priorities of the states they live in. Andrew Lelling, the U.S. attorney in Massachusetts, where recreational pot goes on sale in July, said in a statement that he couldn't "provide assurance that certain categories of participants in the state-level marijuana trade will be immune from federal prosecution." Other U.S. attorneys, including Robert Troyer in Colorado and Annette Hayes in the Western District of Washington, have hinted that they'll focus on prosecuting crimes that would also violate state laws, such as pot shops selling to minors.
Despite Trump's campaign rhetoric, the Justice Department felt the change was overdue and after discussions with the White House didn't fear it would stoke the president's ire, because of his strong personal views against drugs, according to two sources familiar with the decision. Trump publicly talks about how he's shunned alcohol and tobacco, a legacy he's said stems from watching alcoholism ravage his older brother, Freddy. The Justice Department thought the announcement wouldn't get much attention amid the general chaos in Washington, according to one of the sources. Instead, the news grabbed headlines and angered a number of Republicans.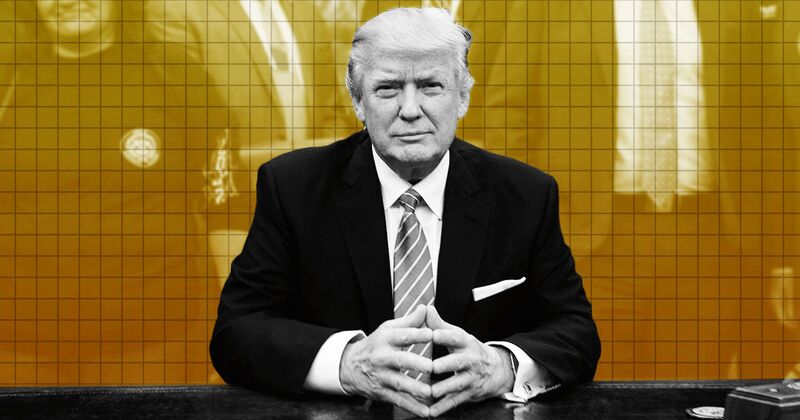 That could be a problem, especially for Republicans facing reelection battles in states with legal marijuana. Nevada Senator Dean Heller and Representative Mark Amodei are Democratic targets, as is Colorado Representative Mike Coffman. At least a half-dozen GOP-held California House seats are in play, including those held by Steve Knight and Dana Rohrabacher. "This is a freedom issue," Rohrabacher told reporters, calling for a change in federal law to protect legal marijuana in states. In a separate statement, he said Sessions' decision "places Republicans' electoral fortunes in jeopardy."
Republican Senator Cory Gardner of Colorado, the chairman of the Senate GOP's campaign arm, took to the Senate floor the same day as the announcement to slam the decision as "a trampling of Colorado's rights, its voters" and demand it be reversed. Gardner accused Sessions of breaking a promise to him prior to his confirmation as attorney general and threatened to block Justice Department nominees unless Sessions reverses course. Gardner says he and the rest of the Colorado delegation met to discuss pushing a rider to a funding bill that would prohibit the Justice Department from spending money on marijuana enforcement in states that have legalized pot.
Bob Ferguson, Washington's Democratic attorney general, has threatened to sue the federal government over the issue. He'll have to overcome a 2005 ruling by the U.S. Supreme Court that found people in states with legal marijuana weren't protected from federal enforcement of the Controlled Substance Act. "That's what we were trying to establish, and we lost," says Randy Barnett, a Georgetown University law professor who argued the case. "This is the current state of law."
A federal crackdown could threaten jobs in Trump country. Take Washington's rural Okanogan County, where Trump won more than 56 percent of the vote. More than 400 people there earn an average of $14.18 an hour growing and processing legal cannabis. Just north of the border in Canada, Prime Minister Justin Trudeau has committed to recreational legalization by July. There are at least 80 cannabis companies on Canadian stock exchanges. "You look at Canada, where you have a half-dozen publicly traded companies with multibillion-dollar market caps—why would an investor want to tie their money up in the U.S. when global opportunities abound?" says Patrick Moen, general council at Privateer Holdings Inc., a marijuana private equity company backed by tech investor (and Trump supporter) Peter Thiel.
Sessions is also fighting against public opinion, even in his own party. Last year for the first time, a majority of Republicans said they favor legalization. Days after Sessions' announcement, the House of Representatives in both Vermont and New Hampshire voted to legalize recreational pot. "Red states, blue states, purple states—they are all going the same direction," says Washington's Ferguson. "Sessions isn't going to stop it."
BOTTOM LINE –
Sessions' decision to reverse course on legal marijuana threatens to open a divide inside the GOP between social conservatives and states'-rights advocates.
Read more: http://www.bloomberg.com/news/articles/2018-01-11/trump-s-war-on-pot-could-split-republicans-in-2018