BlackRock's Larry Fink owns 0.7 percent of the money manager

Schwarzman says unloading BlackRock was a "heroic" mistake
It's not hard to imagine. There's Larry Fink, Starbucks coffee in hand, heading down Park Avenue. And there's Stephen Schwarzman, his old boss, heading up.
Billionaires collide.
It's not hard because Fink and Schwarzman — two of the most successful financial whizzes of our time — have been on a collision course for years. They work, literally and figuratively, on the opposite sides of the same street, personifying a contest that's remaking money management.
On one side is Fink, power player in low-cost passive investments. On the other is Schwarzman, old-school dealmaker and champion of high-touch, high-fee alternative investments like private equity.
The broad outlines of their twin careers are by now well-known. First came the years together at Schwarzman's Blackstone Group LP, where the young Fink added a bond shop to the striving buyout operation. Then, the inevitable split. Fink got what was then the underdog: BlackRock Inc.
It's no underdog now. Lately, the investment world has been tilting BlackRock's way. Today the firm sits atop $6.3 trillion in assets, making it the world's largest money manager and one that dominates the market in passive-investments.
Its sheer size and diversity helped protect it amid 2018's choppy markets. Last week's first quarter results beat estimates even as traders devoted less cash to its exchange-traded funds. The firm attracted long-term net inflows of $55 billion and revenue grew 16 percent year-over-year.
Fink's personal fortune, meantime, has at last eclipsed $1 billion, according to the Bloomberg Billionaires Index. His holding in BlackRock is valued at $570 million with dividends, stock sales and compensation — $27.7 million in 2017 — making up the rest.
"Fink is up there with names like Jamie Dimon and Warren Buffett," says Kyle Sanders, an analyst at Edwards Jones & Co. "You have to look at Larry when you think of asset management."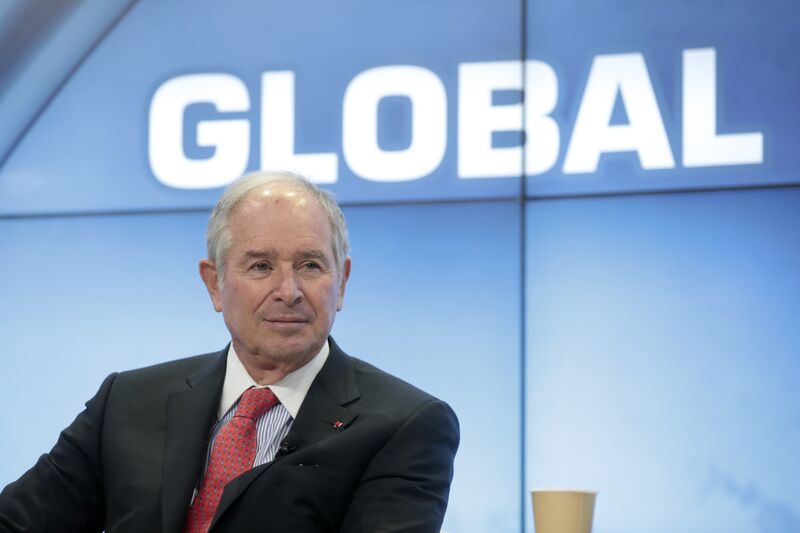 Blackstone, by contrast, oversees $434 billion. And nowadays, private-equity types are chasing deals despite lofty valuations and rising interest rates. Not that Schwarzman is hurting. He crossed the billionaire mark years ago and is now worth about $12 billion, according to the Bloomberg ranking.
The gap between Fink and Schwarzman, both in strategies and personal fortunes, says a lot about their respective business models.
Fink has trailed in personal wealth because he owns only a tiny piece of BlackRock: 0.7 percent. Back in 1994, Blackstone sold its stake in Fink's outfit as Schwarzman railed against dilution because of Fink's desire to award new hires equity in the business to lure them from top banks. Since then, Fink's continued to spread ownership among his employees and used BlackRock stock to make key acquisitions including the $15 billion purchase of Barclays Plc's Barclays Global Investors unit in 2009.
"When everyone else is struggling and panicking they go out and invest," said analyst Sanders. "If you want to point to one single moment in the company's history it is this investment."
Fink's also held on to much of his original management team — five of the eight co-founders are still involved — and avoided the Gordon Gekko image some associate with private equity.
That Fink has managed to pass the billion-dollar mark is, in fact, a testament to BlackRock's success. Since its 1999 listing, its share price has returned more than 3,600 percent. Blackstone's shares have barely budged since its 2007 initial public offering.
A spokesman for Fink declined to comment on his net worth. Schwarzman didn't respond to requests for comment.
Seller's remorse? Schwarzman once said that unloading BlackRock was a "heroic" mistake. Today, he's far richer than Fink but, in terms of assets and stock performance, BlackRock has won.
"When we started, we were two guys in a room with an idea and no revenue," said Ralph Schlosstein, who co-founded BlackRock with Fink and now runs Evercore Inc., the investment bank. "If someone had asked us where we'd end up, we might have said five or six. But billion, not trillion."
Read more: http://www.bloomberg.com/news/articles/2018-04-16/wall-street-s-6-trillion-man-fink-is-finally-worth-1-billion